Accessories and Components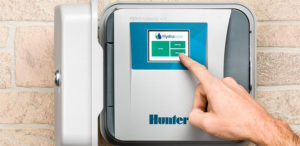 WiFi Controllers
Manage your irrigation controller from anywhere worldwide using your smart device or web browser with Hydrawise web-based software. Predictive watering adjusts schedules based on forecast temperature, rainfall probability, wind and humidity to provide maximum water savings while keeping your landscape healthy and beautiful.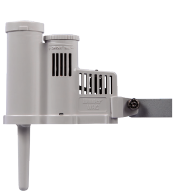 Rain Sensor
Why throw away your hard earned money on a rainy summer afternoon in Omaha? Let Millard Sprinkler add a wireless rain sensor to your lawn irrigation system. The sensor communicates to your controller telling it to stop operation when Mother Nature is providing the drink. No more watering while it is raining. The sensor will stop the system if the rain starts while you are at work, while you are sleeping or while you are out of town and will automatically re-activate when necessary. Saving you money while conserving water.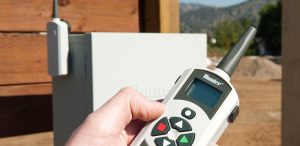 Residential Remote Control
Take control of your sprinkler system when you want, without running back and forth to the controller. Similar to the remote to your TV, you are in control of your system without having to go back to one central location- you can be anywhere in your yard. Whether reviewing a specific area, landscape coverage, marking heads for aeration or power raking, you can do it with speed and convenience with these products.

Commercial Grade Remote Control
Large Residentials and Commercial sites. This is a must to have the power to cover long-range distances. The ICR has a signal strong enough to go through obstructions such as buildings, walls, or trees and communicate with a controller for a half mile or more. Eliminate going back to the controller to start or stop a cycle.

12" Sprays
Provides additional clearance over shrubbery to adequately reach landscape beds without overwatering or abusing plant material. With today's extensive landscaping there is nothing better at watering it efficiently.

Custom Yard Spigot
Indestructible is the word to describe this Millard Sprinkler proprietary design. Sturdier than it needs to be, so it can be added wherever an outdoor spigot is needed with complete confidence that it is up to the challenges of a freestanding unit.
Landscape Drip Line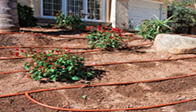 The perfect answer for providing irrigation to your flower beds and landscape areas. The drip system applies water slowly and evenly for consistent distribution. The water soaks in gradually, easily reaching its intended goal (the plant roots). Ideal for irrigating trees or flower pots. Landscape drip lines incorporate a pressure compensation system with a built-in check valve to help prevent emitter clogging and water loss.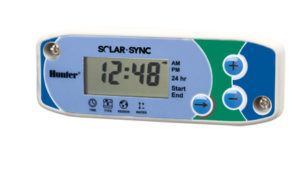 Solar Sync
The ultimate weather management tool for your lawn sprinkler system. It not only recognizes rainfall, it senses solar radiation and humidity and automatically adjusts system frequency and station run times based on weather conditions. Your time and effort in actively managing your lawn's moisture is a thing of the past.
Safety Package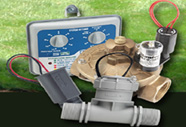 The brass master valve with flow-click meter – with the added option of Accu-Set on Hunter ICV or PGV valve protects the components of your sprinkler system against water pressure fluctuations. In addition, positive system shut-down is provided in the event of a leak. The safety package can prevent foundation damage or soil erosion caused by unseen and undetected pipe or component malfunction in the irrigation system.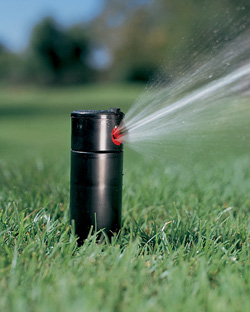 The PGP Rotary Sprinkler
The world's best selling residential and light commercial rotor. The PGP sets the standard for the entire industry. It is extremely quiet and the most reliable, durable and versatile residential/commercial sprinkler head on the market. It is easy to adjust 40-360 degree, and has the strongest spring in its class. Which means, it won't stick up when you don't want it to. Why settle for "second best" when you can have the "Best".
The PRO-SPRAY Sprinkler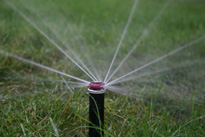 We use the industry's most sophisticated and rugged spray for residential and commercial projects. We commonly use this type of head in tight areas in your yard or landscaping. It has been manufactured with the precision required to ensure reliable operation and peak performance for years to come. A spray designed with the professional in mind. It is easy to adjust, and will last for many years.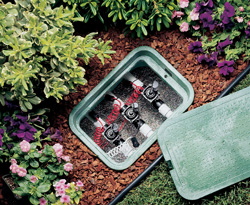 PGV Valves
The valve is the "Heart" of your sprinkler system – letting water out only when told by the controller. We use a professional grade valve designed to handle a full range of landscape needs. All models feature durable high-grade construction and a rugged diaphragm with support to prevent stress failure. This means a longer life with dependable operation for the consumer.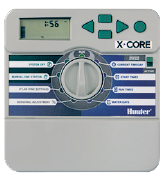 X-Core Controllers
There has never been a controller so easy to use. With its ability to customize to the particular number of zones, the X-Core will always be the right choice. These features include three programs with multiple start times, independent day scheduling options, "one touch" manual start, superior surge protection and the ability to keep programming through a power outage.
Service

System Repairs

Winterization

Spring Start up

Quote

New System Install

System Remodel

System Addition

Talk To Us