With our design, installation, modification and repair expertise and experience,
Millard Sprinkler truly is the one stop shop for lawn Irrigation.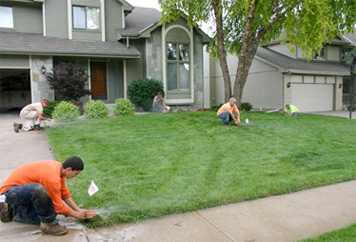 Installation & Design
At Millard Sprinkler we customize your sprinkler system to meet your needs. Our designers meet with you to determine what is most important to you for lawn irrigation, and design the system based around your input.
The final design will take into consideration your terrain, lot dimensions, water requirements, etc. Turf coverage, landscape areas, trees, pots and water features can all be addressed.
The installation of your sprinkler system will be performed by a trained, professional crew using the most advanced equipment to minimize the effect on your yard.

Service / Repair
Millard Sprinkler can handle any problem with your irrigation system.
Broken or leaking sprinkler heads
Backflow preventer problems
Broken valves
Clogged nozzles
Cut wires
Broken pipes

Malfunctioning control units
Capping off heads
Poor spray patterns & wasted water
Running water that won't shut off
Anything…
Turn ons / Tune ups

It's important to have your sprinkler system checked on a regular basis. For first-time homeowners, we can show you how to operate your new system during your first tune up.

Inspection of every sprinkler head
Cleaning clogged nozzles
Adjusting heads for correct spray pattern
Inspection of every zone on the system

Looking for leaks or dry spots
Finding any broken heads or bad valves
Setting correct watering time on control unit

Renovations / Rehabs / Additions
Have Conditions in your yard changed? Sometimes an existing sprinkler system needs to be overhauled or expanded due to landscape, tree growth, fences, new pool, or a new deck. We can recommend modifications and complete the work in short order.
Custom redesign of existing sprinkler systems
Creating separate flowerbed zones
Separating sunny areas from shady areas
Swimming pool reroutes
New deck and patio construction reconfiguration
Reconfiguring systems after an add-on to your home
Installing drip tubes in potted plants
"You and your company were professional from start to finish. You returned my call promptly and came out to do the estimate just when you promised. My system was also installed in a timely manner even though I decided to have it done during the peak time of the summer."
"Office staff was great!! (When making an appointment for my emergency problem with the sprinkler system)."
"Always very pleased with service since installed in '06!"
"Your technician is a gentleman - great personality!"
"You guys are amazing! Wish I would have found you sooner :)"
Service

System Repairs

Winterization

Spring Start up

Quote

New System Install

System Remodel

System Addition

Talk To Us